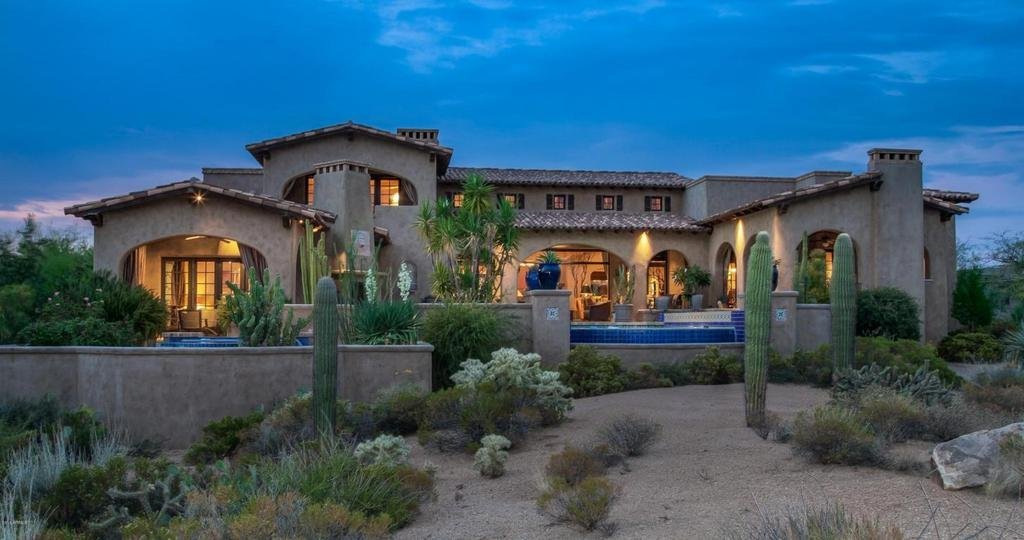 Experience Chandler Real Estate & Lifestyle
Chandler is an affluent city suburb located in the Phoenix metro area's Southeast Valley. In addition to an abundance of family-friendly neighborhoods, Chandler real estate ranges from low-maintenance condos/townhomes, single-family homes in beautiful gated subdivisions, cozy villas & lovely homes tucked away in private golf course communities, gorgeous custom homes in exclusive waterfront communities to sprawling luxury estates with the latest features and amenities. Boasting a robust economy, an exciting downtown, premier shopping & restaurants, top-rated schools, and myriad outdoor recreation opportunities, Chandler has become the destination of choice to live and raise a family in the southwest. In a competitive market, where the best Chandler homes for sale seldom last long on the market, it's crucial that buyers partner with a qualified agent who can help them find the perfect home and secure an offer. Serving the community since 1994, Cathy Carter is a top REALTOR® in Chandler who has helped many families find and get into the home of their dreams. A local resident herself, Cathy knows Chandler inside and out and is your best resource for all things Chandler. Get the home search process started today by calling Cathy directly at (480) 459-8488 or you can get in touch with her here!
---
Search Chandler MLS for the most accurate and up-to-date listings for Chandler homes for sale. You'll be able to save your search, create a free account, and receive email alerts of new listings that match your home criteria delivered directly to your email.
With so many people choosing to move to the Phoenix metro area each year, the Chandler market has continued to remain strong. Home values and home prices are only going up in Chandler making it the perfect time to buy while Chandler real estate is still affordable. Home values in increased 5.6% over the last year and real estate industry experts predict they will rise by another 2.6% within the next year. The median price of currently listed Chandler homes for sale is $349,900.
As a top REALTOR® in Chandler, Cathy Carter is the first to know when new inventory becomes available ensuring that her buyers have the advantage they need in a competitive market for securing an offer. To ensure that you get the most value for your money, Cathy will evaluate the prices of homes currently on the market and those that have sold in recent months to determine whether the seller's asking price is in line with market data. She stays on top of the local economy, community trends, business developments and other factors that can affect the market value of property in the area.
Cathy can also help educate you about Chandler's beautiful neighborhoods and communities, types of homes and features offered, the builders, nearby schools, area amenities, and so much more. Get started today by giving Cathy a call directly at (480) 459-8488 or you can get in touch with her by email.
Living The Good Life in Chanler, AZ!
Chandler offers exceptional living fueled by a booming economy, a diverse and plentiful job market, and world-class services and amenities. Chandler's high-tech Price Road Corridor is home to major companies such as Intel, Infusionsoft, Orbital ATK, Microchip Technologies, PayPal, just to name a few. The largest employer in Chandler is Intel, with 2 campuses in the city - one in West Chandler and the other in the Ocotillo area.
Most Chandler real estate falls within the highly-acclaimed Chandler Unified School District, a nationally recognized school system filled with top-rated schools. Academic achievement is a high priority in CUSD schools, with test scores above the state and national averages. Parents can choose from personalized learning experiences which best meet the needs of their children including self-contained gifted programs (Chandler Academically Talented Students); traditional academies; honors classes and advanced placement courses; and the International Baccalaureate Program.
A smaller portion of Chandler homes for sale falls within the highly-regarded school districts of Kyrene Elementary School District, Tempe Union High School District, and Gilbert Public Schools. Education alternatives include several charter schools, Christian schools, parochial schools, magnet schools, and traditional academies. The leading charter schools in Chandler include BASIS Schools and Legacy Traditional School. For higher education, there are a total of 29 colleges and universities within 50 miles of Chandler including Chandler-Gilbert Community College located on the east side of town bordering Gilbert and Arizona State University located 11 miles away in nearby Tempe.
Chandler's thriving downtown district is filled with quaint boutiques, eclectic art galleries, restaurants & eateries, pedestrian-friendly gathering areas, the Chandler Center for the Arts, and public art throughout. A hub of activity from the April Chalk Walk to regular parades and festivals, Downtown Chandler is one of East Valley's most exciting places to be on the weekends. The Downtown area has experienced major renovations in recent years including the iconic and modern Chandler City Hall Complex, several retail and office developments, fresh pedestrian walkways, and bike paths.
You'll discover multiple, premier shopping destinations in Chandler such as the Chandler Fashion Center is one of the largest malls in Arizona. In addition to major retailers (Macy's, Dillards, Nordstrom), more than 180 different stores, restaurants & eateries, and the 20-screen Harkins movie theater, the mall features a seasonal splash pad in their Outdoor Village. Full-service dining options include The Cheesecake Factory, California Pizza Kitchen, The Old Spaghetti Factory, BJ's Restaurant.
Another popular shopping destination in Chandler is The Shoppes at Casa Paloma, an upscale, outdoor shopping mall featuring boutique shops, national retailers, and eateries. When it comes to restaurants, Chandler's exciting dining scene reflects its cosmopolitan flair where you'll be able to enjoy top-notch restaurant choices featuring local flavors, ethnic specialties, and national and regional chains.
Chandler offers plenty of opportunities for families to spend quality time outdoors with over 60 neighborhood and community parks, soccer and softball fields, courts for tennis, sand volleyball, racquetball, and basketball, miles of walking trails, two lakes, picnic pavilions, playgrounds, aquatic centers, a skate park, four dog parks, and a BMX bike park. Veterans Oasis Park features over 100 acres of wetlands and desert habitats, hiking and biking trails, urban birding and fishing, picnic areas and more.
Golf enthusiasts can choose from seven top-rated golf courses including the historic San Marcos Golf Resort, the stunning Ocotillo Golf Club, Springfield Golf Resort, Sunbird Golf Club, Lone Tree Golf Club, and Ironwood Golf Club, with dozens of additional course within easy driving distance.
Chandler provides easy access to several major routes including US 60 (Superstition Freeway), I-10, 202 (Santan Freeway) and 101 (Price Freeway). Valley Metro operates daily bus service within Chandler with an extensive list of routes traveling throughout the Phoenix metro area. Several of the routes make connections to the METRO light rail traveling in Phoenix, Tempe, and Mesa. Chandler is served by two major airports: The Phoenix Sky Harbor International Airport is about a 19-mile drive away and the Phoenix-Mesa Gateway Airport is located about 12.6 miles from the center of town.
Partner with The Best REALTOR® in Chandler - Cathy Carter
Whether you're interested in purchasing one of the beautiful Chandler homes for sale or it's time to list your current property, experience matters most in a changing market. Serving the local community for over two decades, Cathy Carter provides the kind of expertise, commitment, and personalized service you need and deserve.
She will always take the time to listen to your needs and concerns, keep you updated every step-of-the-way, and will only have your best interests in mind. One of the things that Cathy loves most about being a top REALTOR® in Chandler is sharing the joy that her clients feel when they find the home fo their dreams!
For sellers, Cathy incorporates the most effective and cutting-edge approaches to marketing your home in order to get it in front of as many potential buyers as possible. Your property will be listed in hundreds of locations all around the Internet and will get exposure on all the major sites such as Zillow, Trulia, Realtor.com, Movato.com, Homes.com, and Redfin, just to name a few.
Cathy is fully committed to getting your home sold for the highest market price in the least amount of time possible. As your personal agent, Cathy will protect your interests, advocate for you, and handle all the details of your home purchase or sale for a smooth and successful transaction. To find out more about buying or selling Chandler real estate, feel free to call Cathy directly at (480) 459-8488 or you can get in touch with her here!
CATHY CARTER, ABR, CRS, CDPE
Alliance Group
725 W. Elliot Rd., Suite 111
Gilbert, AZ. 85233
Cell: 480-459-8488
Toll-Free: 800-519-5578
Map of Chandler, Arizona